Ecommerce is one of the most flourishing sectors across the globe. And because of social media, it is also expected to rule over the world in the near future. The more the social media platform will expand, the higher will be the eCommerce influence across the globe.
User-generated content, on the other hand, plays a master-key role in boosting brand loyalty in the eCommerce sector. To understand it, we should first have an idea about UGC itself.
What is User-Generated Content (UGC)?
User-Generated Content is something that is generated by random social media users with no commercial intentions and which is completely genuine.
In other words, the content that usually has hashtags, check-ins, tags, keywords, and a specific set of words mentioned in it, is user-generated content.
This UGC then becomes proof for an eCommerce brand of its social recognition and ultimately a source of boosting brand loyalty in the eCommerce sector.
UGC Becomes a Social Proof For Your Brand
Brands usually take advantage of UGC by showing their global acquaintance to their audience.
Social media networks are not anyway less of user-generated content and so for the brand presence. Thus, the brands not only manage to set their social proof in front of their audience but also play smart economically through this.
With UGC, the brands represent their original content with the users using their product and save themselves from the false product representation. And this also leaves a loyal impression for the brand across the eCommerce industry.
You, being an eCommerce firm owner, may also implement the following useful tips to boost your brand loyalty. The tips are anyhow based on user-generated content and also are capable of boosting brand loyalty in the eCommerce sector.
Tips to Boost Brand Loyalty in eCommerce Sector
1. Use Quality Visual Content.
Visuals are the means of demonstration of the product. It can be an image, a video, or an infographic, but it must have the quality to build brand loyalty.
Quality content is not just about high-resolution and better visibility, but something useful that can assist customers in the purchase can also be called quality content.
User-generated content with full of informational data that can provide niche information regarding the product is also quality content. Curating the useful UGC from social media is the only task that can be accomplished through any visual commerce tool easily.
For example, content with a step-wise description of purchase can boost brand loyalty because people would rather trust in genuine description put by random users instead of the brand's promotional statements.
The content should be relevant and genuine so that the user does not find it hard to trust it.
2. Showcase Reviews, Ratings, and Testimonials to The Audience
You can showcase your brand's reviews, ratings, and your users' experience with your brand so that it can help your upcoming customers easily trust on it.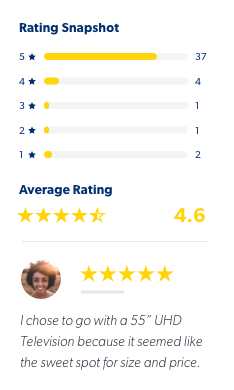 Displaying user-generated content with genuine responses will be like playing with visuals in a visual industry, which is appropriate for your brand to achieve some recognition in the eCommerce industry.
3. Reduce The Steps of Purchase To Change The User Experience
There are very fewer chances of someone has not seen shoppable posts anywhere on the internet. As far as the eCommerce industry is concerned, almost every eCommerce website today has embedded shoppable posts.
The reason is, everyone wants their customers to convert as quickly as possible. And for that, the number of steps of the purchasing process has to be short and fewer.
Ecommerce website owners incorporate their social media accounts into their website, convert that UGC shoppable through smart visual commerce tools and bring more audiences to their website by showcasing their global recognition.
You can consider Instagram as an example of a step reduction for purchase because Instagram allows converting the user-generated content into shoppable. It redirects the traffic to the product's description page directly and ultimately shortens the process of purchase. 
Business owners manage to embed their partner eCommerce brand's UGC into their website and turn it shoppable with the help of Taggshop like adept visual commerce tool and create a unique brand image that boosts their brand loyalty by transferring the through its UGC.
4. UGC Saves You From Content Creation
One doesn't have to pay for UGC. It is available free of cost in a surplus amount in social media. It is about how to aggregate it and make it useful for the eCommerce brand and business itself.
Instead of investing money in content creation, visual commerce platform like Taggshop can help a lot in making money by converting UGC into shoppable and ultimately boosts your brand image in the entire eCommerce-sector.
Final Words
The eCommerce sector is strongly related to social media, and that's why the eCommerce brands make UGC a helping hand to themselves.
However, in the case of the eCommerce industry, it is all about playing with visuals and transform users into consumers. It is now on the player how he plays and manages to boost brand loyalty in the eCommerce sector.